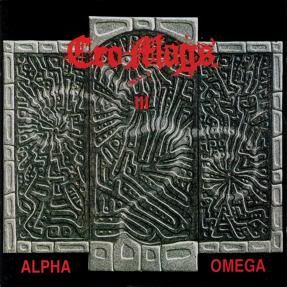 Cro-Mags quizas la mayoria de la gente que escucha Hardcore la conoce pero no la toma en cuenta como algunas personas que nos damos cuenta de lo que es Cro-Mags es cosa de mirar atras y darse cuenta de lo que Cro-Mags dejo con el tiempo, mucha influencia en personas y en bandas, esta banda es increible la mires por donde la mires.
The Age Of Quarrel fue el disco que hizo a Cro-Mags una banda respetada en la escena Hardcore Mundial digamoslo asi ese disco hasta el dia de hoy es uno de los grandes discos de todos los tiempos. Aunque este disco llamado Alpha And Omega no es la misma linea musical que el ya mencionado The Age Of Quarrel este disco tew entrega mucha sabiduria en su musica, temas compuestos a la perfección. Con influencia de bandas como Nuclear Assault y Anthrax ya se dara cuenta de lo que ese album te entregara. A veces las guitarras me acuerdan del Album Negro de Metallica un clasico para muchos la voz lo mismo me arecuerda mucho a lo que hace James Hetfield con diferencia que JJ es mas ronco que James pero es la misma linea de canto.
A veces aunque no te gusten estas bandas y te guste el HC tienes que escuchar estos discos que son realmente alusinantes, increibles y mucho mas.
http://www.mediafire.com/?5godzgomwxy
http://www.mediafire.com/?5godzgomwxy
http://www.mediafire.com/?5godzgomwxy