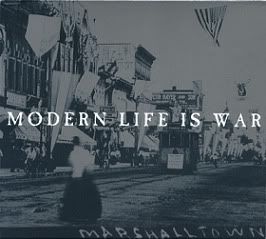 Este disco es perfecto. Este disco esta a la altura de grandes discos como el Give Blood de Bane tambien el Background Music de GUTG.
The Outsider (AKA Hell Is for Heroes, Pt. 1) tema el cual comienza el disco con la pregunta
¿Que carajo vas a hacer mañana?, la cancion termina con las frases : ...esto es, es tu ultima oportunidad y entra el siguiente tema que mejor.
John And Jimmy tema emotivo, escrita por el vocalista Jeffrey Eaton como una respuesta a la apertura de los periodicos y ver una foto de un amigo de infancia con una pistola en IRAK.
D.E.A.D.R.A.M.O.N.E.S es otro de los temas buenos de este disco rapido, melodico y mas cercadel Punk Rock que cualquier otra cosa en este disco Hardcore.
Es elocuente lo hermoso que nos entrega el Hardcore.
http://www.mediafire.com/?mtitj0yzyjy
http://www.mediafire.com/?mtitj0yzyjy
http://www.mediafire.com/?mtitj0yzyjy