Esta banda oriunda de Boston publica su segundo disco llamada Lost Ground que trata de un veterano de la segunda guerra mundial que despues de regresar de la guerra en la que perdio a todos sus compañeros en un tiroteo, empieza una vida de descontrol sumida en el alcoholismo y la desesperanza. El album contiene 6 temas los cuales narra la circuntancia que ya describi en las 6 canciones, el disco se entiende como una pelicula cada tema es una escena, ese efecto se crea al seguir las letras es como leer un libro. La letras estan escritas en una reminiscencia sin refinar diccion rotas de la epoca de la guerra, dando al disco un toque muy emocional.
Es increible el ingenio de crear un disco que narre en todos sus temas la misma historia en el primer tema de este disco The Red, White And Blues, trata de como se pinta la ansiedad de un joven a punto de ir y cumplir con su dever. Esto contrasta con el siguiente tema llamdao Una herida y una Cicatriz, que habla de cuando el asistio al funeral de sus camaradas.
La instrumentación es muy elocuente en todo el albúm, y la sección ritmica acompaña muy bien a los gritos del vocalista. La voz es un retrato de lo que es la historia es como si la estuviera narrando el personaje de la historia me recuera en momentos a Pat Flynn de Have Heart.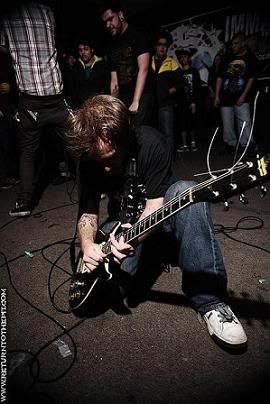 http://www.mediafire.com/?geejjhmzowu
http://www.mediafire.com/?geejjhmzowu
http://www.mediafire.com/?geejjhmzowu
Defeater (Full Set) from hate5six on Vimeo.