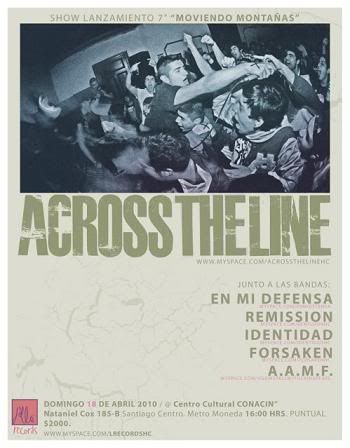 Una ocasión especial para Across The Line que por primera vez desde que tocamos hacemos un show lanzamiento de un disco ya con un demo E.P. que era totalmente diferente a lo que hacemos hoy en dia,en este nuevo disco que sera en formato 7inch podemos encontrar 4 temas con toques modernos y ritmos rockeros muy pegajosos, para fans de bandas como Down To Nothing, Violation, Guns Up, No Warning por nombrar algunas y porque no tambien Slayer esta entre nuestras influencias, mucha dedicación en este 7inch que esta pronot a ver la luz, ese dia compartiremos escenario con bandas amigas cada una tiene su afinidad con la banda En Mi Defensa amigos nuestro de escena y de la vida muchas palabras compartidas y momentos lindos grandes personas no podian no faltar a esta cita especial para nosotros, Remission una de las bandas que nos vio nacer y nos dio la mano para que nosotros nos presentaramos en vivo ahora nosotros le devolvemos la mano invitandolos a ellos grandes personas, Identidd de talca estos chicos muy humildes del sur de Chile con gran parte de su Ciudad destruida a causa del terremoto vienen con toda la Energia a representar el Hardcore del sur con 7inch bajo la manga que presentar sin duda alguna otro momento del show sera el set de estos sureños, Forsaken una banda que naco hace poco con ex integrantes de EMD demostraran lo que saben, Contra Todos Mis Miedos amigos que no podian faltar la mejor banda del circuito en este momento grande guachos, asi se conforma el show con las bandas presisas ningun punto bajo, esperemos que esto sea una fiesta donde se celebre un triunfo mas para la escena que algunos dicen que esta muerta nosotros somos la que la mantenemos viva, como digo una fecha muy importante para Across The Line espero que esto sea una fiesta en el Conacin lugar que se realizara el show ubicado en Nataniel Cox 185, Santiago Centro, Metro Moneda a las 16:00 Horas 2000 Pesos general, Apoyen.
ACROSS THE LINE
http://www.myspace.com/acrossthelinehc
EN MI DEFENSA
http://www.myspace.com/enmidefensa
REMISSION
http://www.myspace.com/remissionhc
IDENTIDAD (Talca)
http://www.myspace.com/identidadhc
FORSAKEN
http://www.myspace.com/forsakenhc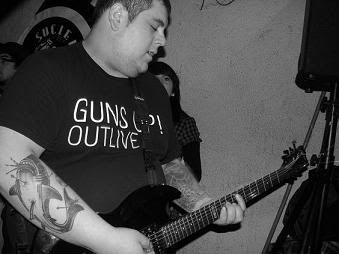 CONTRA TODOS MIS MIEDOS
http://www.myspace.com/againstallmyfuckingfears
Estaremos presentando nuestro vinilo en formato 7" que saldrá bajo el sello de Lillo.
Mientras les contamos que tendremos disponibles el dia del show una edición limitada a 30 copias con caratula especial las que se venderan solo en el show.
Interesados en reservar copias pueden hacerlo escribiendo a:

acrossthelinehc@gmail.com